CYMDEITHAS HANES LLEOL RHUTHUN
RUTHIN LOCAL HISTORY SOCIETY
The Dyffryn Clwyd Dendrochronology Project​
Dating Ruthin's Old Buildings
​
Carol Smith Gareth Evans Fiona Gale
​
21 December 2022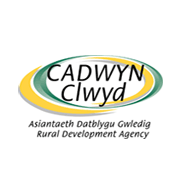 Dendrochronology is the study of ancient building timbers (in this case, oak) where growth rings are clearly visible. These rings can be compared with the pattern of thinner and wider rings which represent a known historical climatic pattern . The year in which these timbers were felled can then be ascertained.
​
Thanks to grant funding from the orgainsations above, keen volunteers and enthusiastic property owners, the timbers in 15 buildings in Ruthin have been dated, ranging from 1414 to 1734. A further 5 properties have been dated independently on the initiative of their owners.
​
In some cases it has been possible to ascertain with some degree of accuracy the original plan of the building , and these are attached here.
​
Measured tree-ring series from 68 timbers sampled from fifteen buildings in Ruthin are used to form a 336-year site chronology, which spans 1399 to 1734. Precise felling dates are produced for all fifteen buildings sampled helping to show a pattern of development in the town. The earliest building dated is 10 St Peters Square (dated 1467). Seven buildings dated are identified to be Medieval in origin. High cross-matching between many of the building chronologies indicates that the timbers were locally sourced. Additional properties which were known to have been dated using the same process have been added to the report with the kind consent of their owners.
These include Gorphwysfa, dated to 1413/1414, making it probably the oldest known house in Wales.
CHRONOLOGY of the Dated Buildings
​
The dated buildings can be placed into 4 chronological groups. Looking at them in this way can tell us something about the historical growth of Ruthin as well as the individual buildings. More information on these buildings can be seen here.

AFTER OWAIN GLYNDWR (3)
Gorphwysfa, Castle Street Andy Moir 1413/1414
Yr Hen Lys 1421
Nantclwyd y Dre D Miles and M Worthington 1435
These properties appear to be part of the rebuilding of Castle Street / St. Peter's Square after the Owain Glyndwr rebellion of 1400.
​
​
LATE FIFTEENTH CENTURY (5)
Porth y Dwr 65 and 67 Clwyd Street, Moir and C Smith 1456
10 St Peters Square (The Myddelton/The White Horse)1467. Enlarged c 1657
9 Castle Street 1478. Hall roof raised 1710
6 Well Street (Siop Nain)1479
55 Clwyd Street (The Star)1491
This seems to have been a period of prosperity for Ruthin business people - maybe related to the wool or leather trades and milling. The buildings are close to the market area at the top of the town and another possible market area just inside the medieval town gate at the bottom of Clwyd Street
TUDOR (6)
24 Clwyd Street (Hideway)1518
21 Well Street. 1535
22 Clwyd Street. 1546
7 Castle Street (Sir John Trevor House) 1563
7 Upper Clwyd Street 1606
11 Well Street (Crown House) 1601
The Welsh of the town were enfranchised by Henry VII in 1508 and reputedly took every advantage of their freedoms to prosper, which gave rise to a building boom represented by these houses.
POST CIVIL WAR (7)
10 St Peters Square (TheMyddelton/The White Horse)1467. Enlarged c 1657
Clwyd Bank 1661
Nantclwyd y Dre D Miles and Worthington. 1435 and expansion including 1662-93
Ingleside 13 Castle Street Andy Moir 1663
16 and 18 Castle Street1690
20 Castle Street. 1692
Ruthin castle endured several assaults during the Civil War, and there is documented damage to a few buildings. The reconstruction of Ruthin evidenced in these buildings suggests more widespread damage concentrated on Castle Street and Clwyd Street, as Parliamentary forces swept across the street and up to the castle.
​